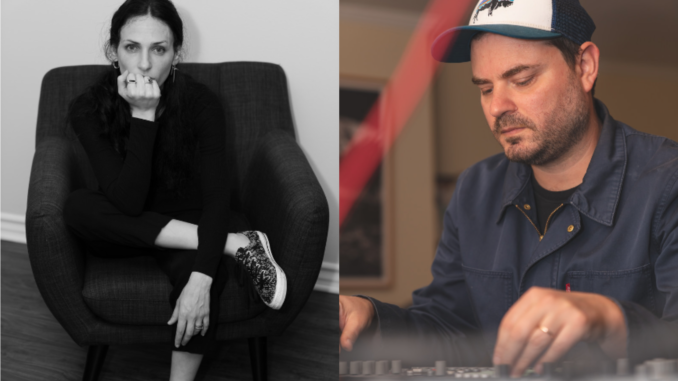 We are excited to announce that Lee and Roy will perform on our stage.
Lee and Roy share an artistic vision and musical taste, but come from very different musical backgrounds, and therefore complete one another in many ways. Their contrasts make the process of crafting their production sound and songs very inspiring and exciting. 
About Lee Triffon
Lee Triffon is an Israeli-born artist, songwriter, producer and composer. Over the past decade, Lee Triffon has made a name for herself by mixing concepts and bending genres. Her experience ranges from her early prog-rock years with the band, EatLiz, to the more recent melodic EDM, ethereal and futuristic sounds of her current self-titled material.
About Roy Regev
Roy Regev is a music producer, electronic musician and soundscaper based in L.A, where he operates Sounding Board: an audio, media and production studio. Alongside Lee Triffon & Roy Regev's project, Regev collaborated with and produced for various musicians nationally and internationally.
Lee Triffon and Roy Regev had been vocal advocates for climate change and the byproduct of the relations between global warming and the LA industry. 
Regev, being a vegan for 10 years, understands that we need to take action now, and think about what we eat, the plastic we consume and the challenge fracking and oil search are creating to CA coastlines and air quality. Lee has been a devoted yogi and an advocate for clean and healthy eating for over a decade, purchasing mainly organic and locally grown produce and avoiding all processed foods. She is also a strong believer in recycling, donating and purchasing from thrift stores as much as possible. 
Both Lee and Roy believe that practising better habits of consumption and creating less waste, being very mindful of how certain products are being manufactured and supporting the brands that are making better choices are all things we can do to help improve the critical situation we have come to as a collective.
Their first EP "Tribute" (https://youtu.be/8g0aoYLPvhc) is followed by "Meditate" in 2020, a first original EP.