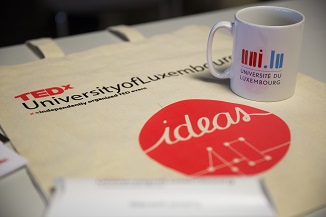 The first TEDx event hosted at the University of Luxembourg on 26 October 2018 gathered a diverse ensemble of speakers, performers and artists, each unique in their style and subject, on the 26 October 2018. A lecture hall on Belval campus was turned into a show of lights and shadows on the occasion.
Live stream videos of the three sessions are available here: http://tedxuniversityofluxembourg.com/2018/2018/10/28/live-streams/
"Ideas 4.0" was the umbrella theme chosen for the University's introduction into the TEDx world. It draws on the interconnectedness, autonomy and overall the revolutionary character of Industry 4.0, but applied to humankind and to human culture. A theme broad enough to include a number of interrogations, issues or ideas, which have all the power to improve people's future.
Ideas to revolutionise our individual and professional lives ranged from moving to agile project management (Susanne Sommer and Helmut Wiland), to acting on those 'click moments' of informal learning (Marion Grace Wolley), up to letting FinTech improve our everyday lives (Emilie Allaert).
In the universe of science and academia, Li Bennich-Björkmandelivered a human and strong appeal for academic freedom, affirming that academic freedom fosters fresh ideas, discovery and independent thinking. Chris Woolston's talk was a sombre yet powerful call for decision-makers to recognise the struggle faced by young scientists and to fix issues in the system in order to protect future talents. Tanja Baudsonaddressed the delicate relation of trust between members of society and science, and the responsibility of scientists towards society.
Because all kinds of human expression and arts have the power to inspire, TedxUniversityofLuxembourg invited a number of Luxembourgish and international artists on stage. The Jean-Guillaume Weisensemble – dance trio Malcolm Sutherland, Youri de Gussem and Anna Senognoeva – delivered a striking performance on a small stage, while singer Sitta Foehrdelighted visitors twice with songs from her upcoming EP "Part of me". Starting the first session with a bang, Leonello Tarabello introduced the Collisions music project, in which artificial intelligence meets human movement and music.
Ideas to improve health and wellbeing were presented by medical doctors Sara Rigon and Richard Roberts. Richard Roberts pointed to the loss of quality in patient care that stems from a "healing by numbers" philosophy and called for a return to patient-centred primary healthcare. Sara Rigon talked about the absurd power that the concept of virginity has over the health and lives of thousands of women today and outlined what it will take to change this. Meanwhile, Bachelor student and youngest speaker Johannes Heuschkel showed how after tracking twenty-seven variables of happiness for one year, he concluded that one must accept the ups and downs of life to be content and finally happy.
Finally, Silvia Vignoliniintroduced visitors to the fascinating world of colours, while Paul Wilmesexplained why we need to pay more attention to our inner ecology and the way we treat it.
The event was brought to life by TEDx license holder Jan Lagerwall, material scientist at the University who already organised theTEDxSNUSuwon in South Korea in 2013. "I am humbled, gratified and extremely happy to have witnessed what a passionate team working hard and long towards a common goal can accomplish, said Jan Lagerwall. "I am equally grateful to the audience for listening without prejudice."
In his closing line, host Phillip Dale, also material scientist at the University, expressed the hope that the event will stimulate the audience, locally and globally, to take action to realise on their own great ideas and thereby share their joy and their ideas with all of us.